Floorplan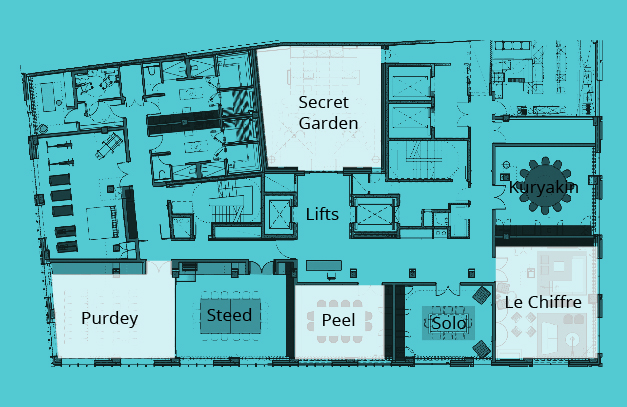 Keynote and Delegates
Keynote speaker

Jason Bradbury: 30 Days of AI

Jason is going to tell you all about his '30 Days of AI', where he entrusted his every daily decision to artificial intelligence - for an entire month. In this fascinating experiment, he explores the potential benefits and risks of the machine learning revolution that is poised to affect how all of us live and work.

Through the examination of this thought-provoking experience, Jason illuminates the intriguing results of everything from mundane tasks - meal planning and workouts - to ambitious pursuits like creating a profitable side business or achieving financial independence – all seen through the prism of deep learning and Artificial Intelligence services.

Jason has been a student of AI for the last fifteen years. He's interviewed AI researchers in Japan and Silicon Valley and at IBM's New England campus, with a particular interest in the use of machine learning and robotics – including helping to create and train a robot to perform live stand-up comedy.

Drawing from his experience as a leading tech authority and his personal journey to balance work and life, Jason will offer insightful perspectives on the future of technology, its implications for leadership and business strategy along with the ethical and philosophical implications of the new age of AI.

Jason Bradbury

As a prominent tech specialist in the UK, Jason is a familiar face to many. He is known as a charismatic and inventive technology expert, former host of The Gadget Show and renowned public speaker.

Jason has filmed all over the world and his success on networks including BBC One, Channel 4, ITV, Discovery and Channel 5, and social platforms, have allowed him to diversify his career. He is the successful author of the Dot Robot techno thriller book series for young readers, published by Penguin Random House. As an entrepreneur, he founded a technology product consultancy with a focus on content ideation and creation, collaborating with an impressive roster of clients such as Maplin, Disney and Intel. During the 2020 pandemic Jason authored and directed the online video course, 'Talk', which now includes in-person workshops, aimed at honing public speaking proficiency, enhancing personal confidence, and refining business communication skills for company leaders and professionals.

Jason's commitment to making technology accessible and exciting has led him to speak at numerous conferences, collaborate with prestigious educational organisations, and inspire countless individuals to explore the world of technology.
Session 2

Peel

David Hedderwick
Head of Fund Research
Brompton Asset Management

Ryan Hughes
Head of Investment Partnerships
AJ Bell

David Jardine
Head of Portfolio Management
STANLIB Multi Manager

Tom Jemmett
Head of Funds
LGT Wealth

Richard Larner
Head of Research
Brooks Macdonald

Carly Moorhouse
Fund Research Analyst
Quilter Cheviot Investment Management 
Session 4

Peel

Adam Carruthers
Collectives Analyst
Charles Stanley & Co

Jade Coysh
ESG Specialist/Senior Fund Analyst
Momentum Global Investment Management

Mark Preskett
Senior Portfolio Manager
Morningstar Investment Management

Jack Rawcliffe
Fund Analyst
EFG Asset Management

Scott Spencer
Investment Manager
Columbia Threadneedle

Pete Wasko
Senior Portfolio Manager
Copia Capital
Session 6

Peel

Ian Aylward
Head of Manager Selection and Responsible Investing
Barclays PBWM

Kristian Cassar
Head of Manager Research
Quilter Investors

Luca Dal Mas
Multimanager Team Lead
Aviva Investors

Darren Morgan
Portfolio Director
Cazenove Capital

Mark Shapley
Chief Investment Officer
Alder Investment

Simon Watts
Senior Portfolio Manager
Nedgroup Investments
Session 8

Peel

Anthony Graham
Investment Manager
Tatton Investment Management

Richard Philbin
Chief Investment Officer (Solutions)
Hawksmoor Investment Management

Mark Robinson
Chief Investment Officer
Bordier & Cie (UK) PLC

Matthew Stanesby
Managing Director
Close Brothers Asset Management

Charlie Underwood
Partner
James Hambro and Partners

Ruli Viljoen
Head of Manager Selection
Morningstar Investment Management
Information
NGF International was devised and organised by Infusion Events. We will be available throughout the event and we will be happy to help with any queries you may have. Please come and find us at the registration desk or phone us on one of the following mobile numbers:
Sally Doyle  07881 957350
Sarah Ford  07702 331487
Wi-Fi
Should you wish to catch up with the office during your breaks, a secure Wi-Fi network is available.
Network: Southplace Meeting Room
Password: W3lcome!
Drinks Reception
A reminder that the Drinks Reception will commence immediately following your final session, at 16.20 in the Secret Garden. The event will conclude at 17.00.
Transport
We recommend the following reliable car service: